If you're wondering, "What is a host agency?" and "How would it benefit me and my business?" you're likely eager to start your path to success. Well, you've come to the right place to get answers.

With dozens of host agency and franchise options available to choose from, deciding which one is right for you is one of the most important decisions you can make as an independent travel business owner — but you'll need the facts first.

After all, you're looking to align yourself with a network that best suits the needs and priorities of your independent business, right?

So, let's dive into those crucial questions to understand how a host agency can benefit your independent travel business.

What exactly is a host agency?

A host agency is a travel network that supports the needs of independent travel agencies by offering a variety of resources to help them succeed.

You'll be able to own and operate your independent travel business but can continue to grow your business, and your sales, with access to instant credibility, powerful vendor relationships and a network that is well-established in the industry, all with the support of the host agency's resources.

What does a good host agency provide to affiliated network members?

Not all travel partners are created equal, so it's imperative to get a thorough understanding of what a good host agency offers affiliated members.

A well-rounded host agency will provide both experienced travel professionals and those new to travel with a strong foundation of the highest quality resources to achieve success through every step of building their business.

Let's take a look at the common resources and offerings provided by a good host agency: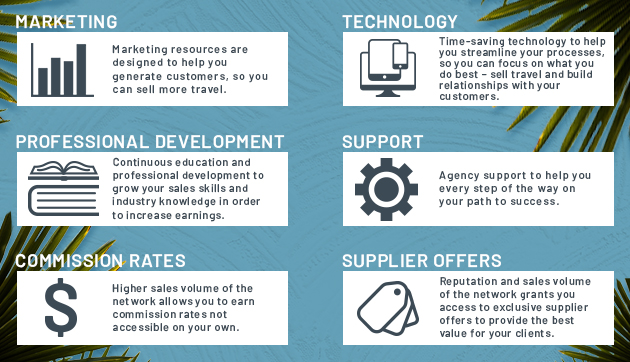 Avoya doesn't settle for the status quo. Instead, Avoya offers these resources, and so much more. Such as offering the industry's first, and still best, travel leads program; Live Leads™, that sends new clients directly to you. By cutting the time you would have spent marketing, Avoya enables you to sell more travel, which is what you're here to do, isn't it?

All the industry-leading resources and unparalleled support provided by Avoya are designed to help you take your business to the next level.

Additionally, unlike some other hosts or franchises, Avoya does not sell travel, so you'll never have to worry about competing for sales with your host. Plus, Avoya gives you the flexibility to run your business your way, on your own terms. All we ask is that you do it with Integrity and Professionalism™. Reach out to us today to see how Avoya's customizable products and services can help you build a foundation of success and see your business grow.