Cell phone? Check. Laptop? Check. Charger? Check. Floaties? Check.

Hold on - floaties? Yes, floaties. You're working from the Bahamas!

This seems like a dream come true, but in the travel industry, we just call this a Tuesday. As a remote travel advisor, you're able to pick up your office and work quite literally from anywhere in the world. We understand, however, that while running your business, it may be difficult to be taking calls poolside right off the bat.

That's why we're coming to you with our tips, alongside advice from experienced travel advisor Penny Rushing, owner of Four Points Travel, LLC, an Independent Agency in the Avoya Network™, to help get you there and master running a successful business while doing so - floaties and all!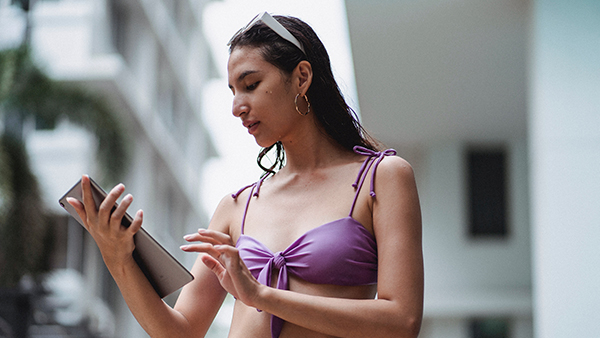 Stay Connected to Colleagues and Clients
First and foremost, staying in touch with your clients while remote is an absolute must. Just because you may be traveling off the grid, doesn't mean your business should fall by the wayside. No matter where in the world you are, your priority should still be your clients, even if you're poolside. "It's critical that clients have access to either you or a back-up." says Rushing. If you know that you'll be unable to take calls that need immediate attention, consider having a back-up who knows the ins and outs of your business and clientele. "A quality back-up is important to handle those things that just cannot be done while you are halfway around the world."

Avoya Tip: When you're out of town or unavailable, your customers may still need assistance - this is where the Avoya My Colleague System™ comes in. Easily set up access to client records, due dates, reminders and more for your colleague in our technology platform, Agent Power™, so they can provide the best service possible while you're away.

Stick to a Remote Work Schedule & Keep an Organized Calendar
If running an effective and successful business while traveling is important to you (which we know it is), keeping a set schedule and organized calendar is an absolute must. Set a timeframe that works in both your interests and the interests of your clients, taking into consideration the possible separate time zones. "Depending on the level of success you are seeking, you'll need to commit to the fact that most of your travel will contain significant work time," says Rushing. "You'll need to be very organized and rely on a calendar for reminders on tasks that must be handled while you're away." Since you'll have no one looking over your shoulder while working remotely, organization and self-discipline are key!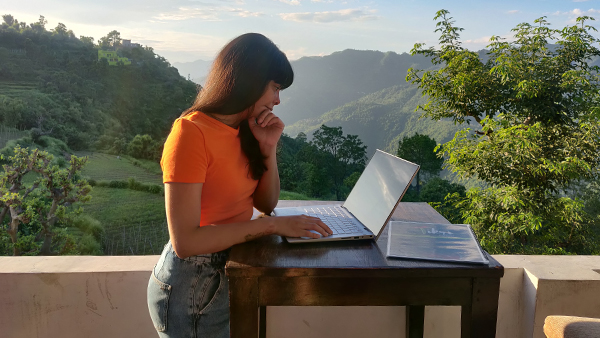 Pack Appropriately
You're going to need a big suitcase for this one! We've already established the essentials: Cell phone, laptop, charger and yes, even floaties. But how can you make sure you have everything that you need for work AND a beach day? Try compiling a list throughout your normal day working from home. What are your day-to-day business essentials? Map out your nonnegotiable office supplies and try to keep them separate from your travel items.

Travel Pro Tip: Bring extra EVERYTHING. The last thing you'll want is to have a busted charger in the middle of the Caribbean or run out of phone battery in the middle of a client call, so pack an extra! Having a back-up for your electronics is a must.


Get your Time Zones Down
Sometimes determining what time zone you're in can be like a constant math equation. To make this easier on yourself while working remotely, try setting your computer to your home base time zone and keep your phone in your current time zone. Take into consideration the time zone you'll be working remotely.

If you're working during opposite times as your clients will need you, you may want to reconsider your travel destination or block off time to connect with clients, even if it's after hours where you're traveling. Keep in mind that as a travel advisor your focus is your clientele. Rushing makes this one of her top priorities while working from travel, saying, "Being accessible to your clients and delivering good customer service creates client confidence." And client confidence creates repeat business!

Consider your Destinations' Wi-Fi Strength
Before choosing where your next adventure will take place, make sure that where you're staying has a strong signal. If you're not sure what the strength will be, reach out to your accommodation host. They'll be able to give you a rundown of what the Wi-Fi situation will be, as well as hopefully provide some tips and tricks that travelers have used to gain the strongest signal.

Take Advantage of Excursions!
Although you're WORKING from travel, you're also working from TRAVEL! Whether you're traveling across the US by sprinter van, a nomad exploring the coast of the Mediterranean Sea or a wildlife enthusiast amidst the dunes of the Sahara, there are endless opportunities for adventure. Once you've finished your day spent planning dream vacations for your clients, it's time to explore for yourself! Try joining a group of fellow remote workers and make an experience out of your destination.

Don't forget – along with satisfying your own travel cravings, your adventures can be used in many ways that can benefit your business: as inspiration fuel for your clients, as marketing opportunities for your social media pages, as education to increase your knowledge of a destination – the list goes on and on! Your clients trust you as the go-to source for all things travel and will be inspired and excited to work with you when they see your travel pics on social media. Use your own travel experiences to reinforce your expertise, while also having some fun for yourself (after all, that's why you're in the travel industry, right?)


Partner with a Network That Can Help Make your Adventures Possible
While working from travel seems like a dream come true, it can be difficult to make that dream reality without a travel partner that offers technology that can make it possible. With Avoya's proprietary in-house Agent Power technology, working from anywhere is made to be a breeze. Access everything you need to stay on top of your business, including access to the industry's #1 travel leads program, Live Leads™. No matter where you are in the world, we'll still send leads to you 24/7 via phone, web or mobile app, so you don't have to worry about sacrificing your business while you're out globetrotting.

Many Independent Agencies in the Avoya Network are adventuring the world while still closing sales. Penny Rushing says, "I travel 5-6 times a year. As long as I have Wi-Fi, I'm working, if need be." With innovative technology accessible anywhere in the world with an internet connection, best-in-class marketing resources and top-rated agency support, you'll be closing sales poolside in no time when you affiliate your independent business with the Avoya Network.

Interested in learning more about working from travel? Check out our other blogs on the topic, including Making the Most of Your Workday and What to do Before, During and After Your Trip.

Interested in joining a community of like-minded peers eager to lead in the future of travel? Contact us today to learn how Avoya can help you run a successful travel business and explore the world while doing so.