Quick! You've just bumped into someone who would be an ideal travel client. You have seven seconds to make a first impression and 30 seconds to pique their interest during your elevator ride with them. What do you do? How can you convince a stranger of your expertise, trustworthiness and value in under one minute?

As a business owner, one of the most important skillsets that you should learn is being able to communicate what you sell. There may be thousands of other travel advisors in the same marketplace as you, but there's only one you. You know the value of your business, but how do you convey that value to a potential client?

This is where an elevator pitch comes in. To have a winning strategy, your 30-second "elevator pitch" must define a problem and solution in a simple and timely way, i.e. showing why travelers should book their next (and future) getaways through you, rather than doing it themselves or through a large-scale OTA.

Follow this strategy to create a sound elevator pitch that will entice your audience and turn a stranger into a potential client:

What is an Elevator Pitch & Why Do I Need One?
An elevator pitch is a way for you to convey your expertise, credibility and what you do to someone who doesn't know you. It's meant to be as short as an elevator ride so that you can spark interest and a connection in a condensed amount of time. Think of this as a conversation rather than a sales pitch; a concise answer to the question, 'So, what do you do?' that will become second nature to you. Your audience should not be able to tell that this has been rehearsed or planned (even though it will be).

If you want to land new clients and make connections with people that will speak highly of you and your travel business, you'll want to have an elevator pitch prepared and memorized. You as a business owner are the face of your brand. Again, there may be many travel affiliates out there, but there's only one you.

Building Your Pitch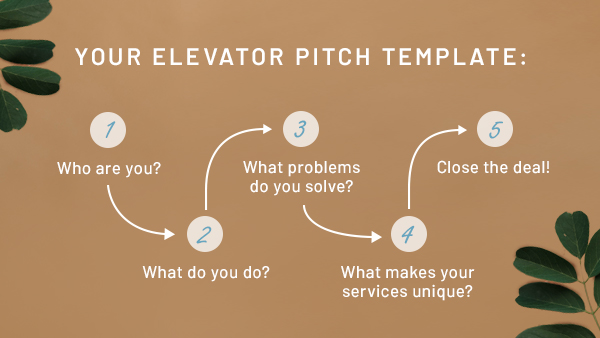 So, you've encountered a situation where you'd like to give your pitch. Where do you start?

1. Who are you? Start the conversation by introducing yourself and finding common ground with your potential client. Quickly expand on this common ground to make your initial connection.

2. What do you do? Use broad travel industry terms while answering this question. Remember, this is a conversation, not a sales pitch.

3. What problems do you solve? You are the expert in all things travel! You not only plan adventure, but you are the go-to source for any topic involving vacation.

4. What makes you unique? Think about your specific travel brand. Are you an expert in land, cruise, air or all-inclusive? What about your business makes you stand out from the rest of the crowd?

5. Ask questions throughout your pitch. As humans, we love to talk about ourselves. There's no better way to make a connection with a potential client than to ask about themselves or their personal experiences with travel. Here you can find their "pain points" or problems that you can help them solve.

6. Close the deal! When your conversation comes to an end, make sure to grab your potential client's contact. Consider utilizing physical or digital business cards to keep the conversation going with your audience. Remember to always ask for their business card or contact, so that you'll be able to contact them if communication is lost on their end. If you don't have one, don't worry! Avoya offers customizable business cards for affiliated agencies. You can contact us for more information, plus find out more about our marketing resources that can help you close the deal here.

Practice Delivering Your Speech
For a natural-sounding elevator pitch, you must rehearse it. Whenever you have the opportunity, you should be sharing your brand. There's no better way to embody your business than to have a consistent message that rolls easily off your tongue. Remember, practice makes perfect!

When to Use Your Elevator Pitch
Throughout your days there will be countless scenarios in which it's important to convey your travel business' information quickly – it's the nature of being in the 'people business'. Some examples of where you will want to have your elevator pitch prepped and ready to present are:

- Trade shows: Introduce yourself to fellow travel agents and begin to practice sharing what makes your business unique. Make sure to listen while they explain their business - you may find ways to improve your pitch!
- Vacation: What better way to pitch the highlights of your business than during a vacation? Take this time to better understand your clientele, find pain points in their own booking experiences and look for ways to convey how you can make their next trip hassle-free. (Plus, who doesn't love chatting on vacation while lounging by the pool?)
- An elevator: Going up? Here's your chance to give your elevator pitch to someone who you think may be interested in what you do. Who wouldn't be interested in a planned vacation from someone that they trust? Have making a connection your goal in these 30 seconds, and don't forget to grab their contact.
- Anywhere! You are your strongest form of marketing. Being a travel advisor, one of your most special qualities is being able to communicate with your clients, putting the human touch into vacation planning. As the face of your small business, you should embody what makes your business unique, today, tomorrow and every day. Now get out there and spread the word with your newly created elevator pitch! Your business will thank you.

Showcase Your Brand with a Trusted Travel Partner
Now that you have the foundation for creating the perfect elevator pitch for your business, it's time to put it into action. When you're crafting that perfect pitch, and you notice maybe your business could use a little boost, it might be time to consider partnering with a travel network that can help you reach that next level and better appeal to potential clients.

To help you build a stronger travel business – one that you can sell in a 30-second elevator ride, Avoya offers countless resources to market and grow your business. Our Live Leads™ (new clients sent directly to you) are available for you in affiliation with the Avoya Network™ to kick start your pitch efforts. Plus, take advantage of top-tier education resources such as the Avoya Mastermind™ program to understand the ins and outs of your business more deeply. Now that you know how to convey your value, we're ready to help you expand it. Contact us today to learn how Avoya can help take your business to the next level.