Are you ready to take your travel agency to the next level without breaking the bank? Say hello to marketing with Avoya Travel® - your secret weapon for becoming a digital marvel! We've got your back, and best of all, it won't cost you a dime.

We understand that running a successful travel agency involves wearing many hats, and marketing might not always be in your comfort zone. That's where we come in. Imagine a world where you can effortlessly engage clients, boost your agency's visibility and stay ahead of the competition - all while freeing up more time to focus on what you truly love: crafting unforgettable travel experiences.

We've meticulously curated a suite of resources and strategies that will not only make marketing a breeze but will also give your agency the edge it deserves. Bid farewell to marketing stress and hello to a thriving business that captures attention, builds connections and fosters growth! From co-branded email templates to personalized agency profiles, from direct mail assets to interactive client engagement and so much more - the possibilities are endless, and they're all yours for the taking. Let's dive into the ways you can transform your travel agency into a marketing marvel for free.


Effortless Email Marketing
Say goodbye to staring at a blank screen in search of the right words. Our co-branded email templates are designed to elevate your email marketing endeavors while alleviating time spent on marketing! Found in our Marketing Resource Center™, these downloadable email templates offer a seamless blend of vendor-specific content and irresistible travel deals, all accompanied by visually captivating imagery. Designed to be user-friendly, no HTML experience is required to utilize these stunning templates, just copy, paste and send.

With a variety of options at your fingertips, you'll be equipped to deliver messages that resonate effortlessly with your clients' preferences. Whether you're spotlighting exotic destinations or highlighting unbeatable offers, our co-branded email templates provide the artistic foundation to engage your audience effectively. Want assets with your own agency branding? Our team of in-house designers is just an email away!

Or, if you're really short on time, opt for our automated campaigns. Less time spent crafting emails means more time focusing on what you love - selling travel!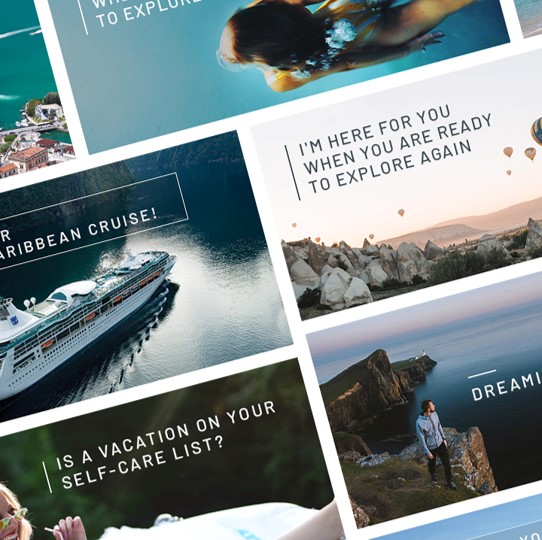 Digital Magic at Your Fingertips
Stand out in the digital world with our ready-to-use digital flyers and social media assets. Created by our talented team of graphic designers, our collection of ready-to-use social media assets spans a spectrum of formats, ensuring that you can captivate your audience across various platforms. We're constantly keeping up with the trends, sales and hot destinations so your social media calendar is always up to date. Plus, these gems are customizable, allowing you to add your personal touch and branding! Who knew becoming a digital sensation could be this easy?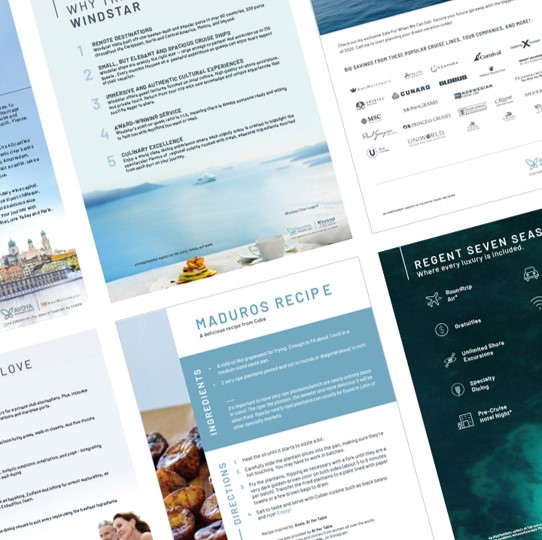 Delight Clients with Direct Mail
There's a certain magic in the tangible - the feel of a handwritten note or the artistry of a carefully designed postcard. And now, bringing that magic to your clients is as simple as a few clicks! Imagine curating a postcard that encapsulates the beauty of a destination your client has been dreaming about. With a few adjustments, you can add your agency's branding, ensuring that every glance at the card is a reminder of the extraordinary service you provide (and who to call when they're ready to book their next getaway). Let the good old-fashioned charm of direct mail work its wonders!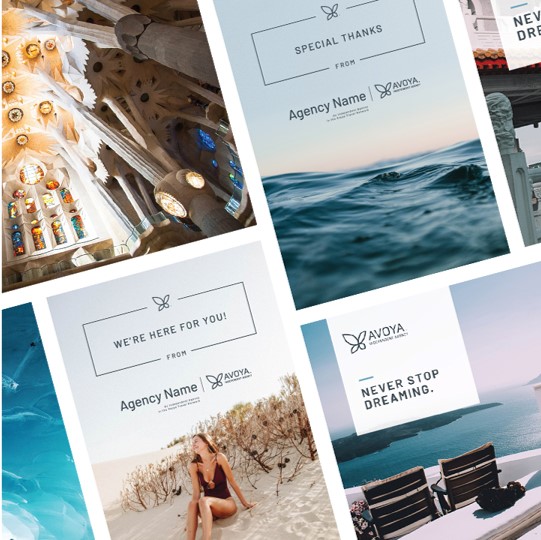 A Tailored Agency Profile
Elevate your agency's presence with a tailored profile that captures the heart of your travel business. Beyond just browsing, your co-branded website empowers clients to take that pivotal next step! As they explore a myriad of travel deals, they can seamlessly transition from dreaming to doing. The intuitive design guides them to contact you, transforming their aspirations into tangible travel plans. In a world where first impressions matter, your co-branded profile is your digital ambassador.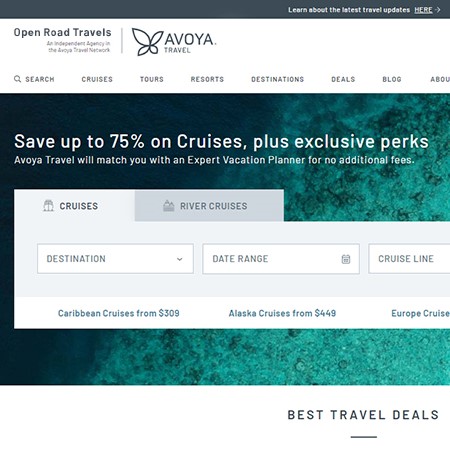 Engage and Entertain Ready to dazzle your clients with unforgettable experiences? Host a virtual cruise night with our pre-made digital kits or delight them with travel checklists and fun children's activities - all co-branded with your independent agency. Whish your clients off on a virtual journey that will unlock their travel dreams and get them ready to set sail. Whether your goal is to engage previous clients or reach new ones, this resource is interaction at its finest!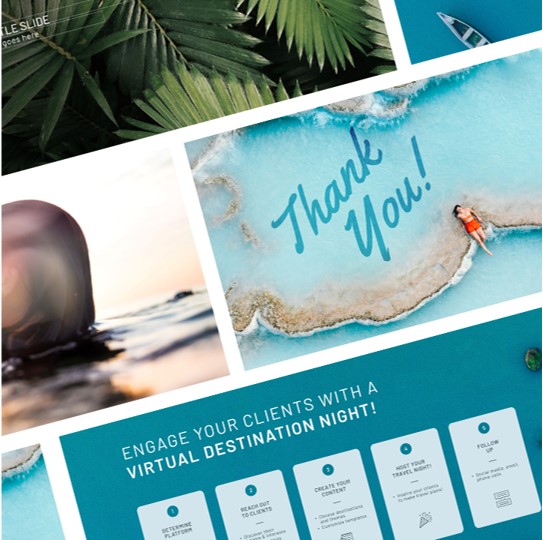 Leads, Leads and More Leads
Meet the industry's first and most innovative travel leads program: Avoya Live Leads™. This program connects you with new travel leads, 24/7, through phone, web or mobile app - wherever you're working from! Every lead that arrives on your doorstep is more than just a name - it's a handpicked opportunity tailored to your product specialties. Our cutting-edge Agent Power™ technology takes the guesswork out of matching, ensuring that the leads you receive are not just potential clients, but individuals genuinely interested in the experiences you offer. Say goodbye to sifting through irrelevant inquiries and hello to a pipeline filled with prospects who are aligned with your expertise!


Predict Your Success
Why play guessing games when you can predict your business' success? Avoya Smart Leads™ identifies clients from your past who are most likely to book again using proprietary algorithms such as the client's previous travel history and booking patterns, transforming your marketing efforts into a focused strategy that delivers results where they matter most. This sales pipeline allows your business to continue providing top-tier service to the clients who are more likely to book. By targeting those who have shown genuine interest in your services, you're not only saving time but also nurturing relationships that are primed for conversion – a win-win for your business!


Access All This - For FREE!
Yes, you read that right. Every single one of these incredible marketing resources is included with your affiliation, and it won't cost you a dime. Elevate your agency's marketing game without spending a penny!

Ready to become a marketing wizard? Avoya's Marketing Resource Center is your golden ticket. Embrace these opportunities, watch your business flourish and let us handle the marketing magic. Your agency's success story starts here – and it's all on the house.

Ready to amplify your agency's marketing game? Fill out the form below and let's embark on this exciting journey together!