Starting your own travel business is a bit like jumping into an adventure movie. Exciting, right? But for newbie entrepreneurs, it can feel like you've stepped into a complex plot with a lot of twists and turns.

With so many travel network options available to you, each with its own offerings and business models, it's difficult to see the differences between them.

You might be asking yourself, "Which of these networks aligns with my entrepreneurial aspirations?" If this question resonates with you, read on! We're here to help you navigate this decision-making process.

Hosts vs. Franchises - Who Wins the Cost Battle?
Let's delve into one of the most crucial factors you should be considering when combing through the options available to you: COST.

How much does it actually cost to join a travel network? Are there monthly fees? Are there any hidden charges you should be aware of?

As you compare the host agencies and travel franchises available, you'll quickly discover that the answers to these questions are as diverse as the networks themselves.

Launching your travel business means balancing the books from the get-go. It's a bit like playing Monopoly; you need to know how much you'll pony up for Boardwalk (or in this case, your network). As with any entrepreneurial venture, start-up and ongoing costs are important to keep in mind. It isn't any different when choosing between host agencies and travel franchises; costs shouldn't be overlooked, as not all travel partners are created equal.

Many host and franchise networks have large initial fees, as well as hefty monthly and annual renewal fees that might make you think you're financing a luxury yacht. They could even throw in costs for marketing and training programs, not to mention booking fees and rolling royalty fees. Yikes! But remember, just because something's pricey doesn't mean it's top-notch. You'll need to research each network individually to figure out which travel partner is the real deal.

How Much Does It Cost to Join Avoya?
At Avoya Travel®, we're all about keeping your independent travel business afloat without sinking you in costs. Our Shared Success™ model means that we only succeed when you succeed.

Now, let's dig into the juicy stuff – the costs of affiliating your independent travel business with Avoya and how other hosts and travel franchises add up.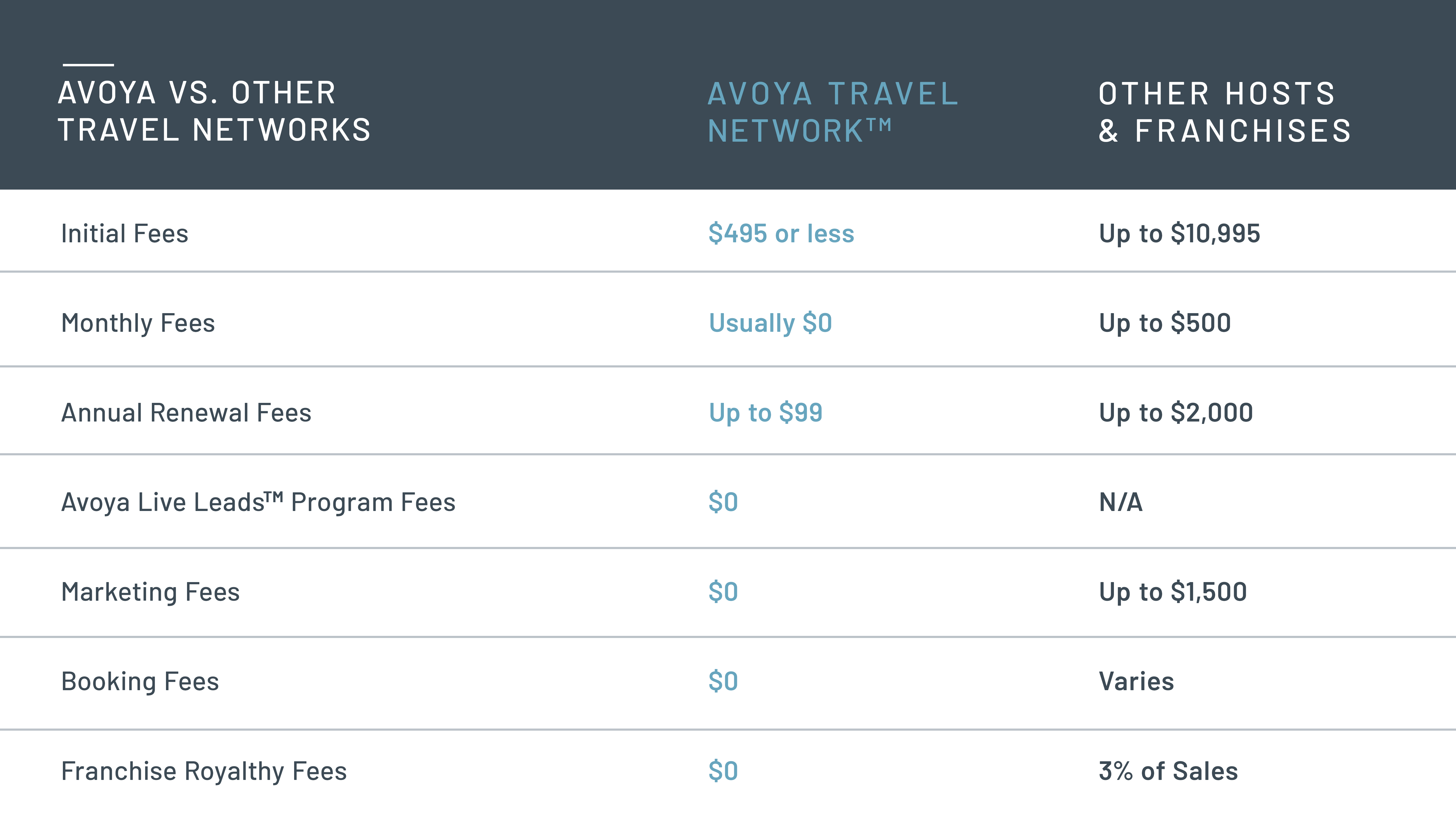 You're never in business alone with Avoya. Even with economical startup costs, we never compromise on quality. We're here to provide top-notch support and the most innovative agency resources to help you on your journey to success.

Joining the Avoya Network™ means you'll get access to Live Leads™ – new clients delivered 24/7 through web, phone or mobile app, top-tier support, industry-leading education, continous professional development, cutting-edge technology and a whole lot more.

When you affiliate your independent travel business with Avoya, you'll gain access to all these key resources, at no additional cost to you – yes, you read that right! This means you'll never have to worry about being nickel-and-dimed by your network.

You work hard, and you deserve to keep more of your earnings. Be the hero of your own financial story with the #1 travel network.

Are you ready to start your path to success? Fill out the form below to join over 1,800 entrepreneurs taking the travel industry by storm.